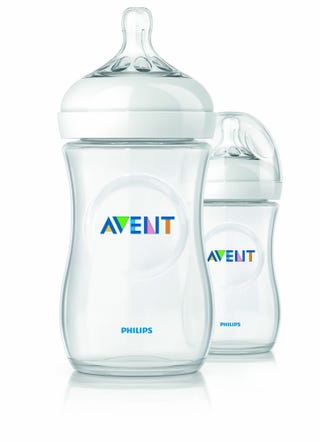 If you're selecting a bottle for feeding, I'd go with the Philips AVENT Natural ($26 for four). It has a minimalist design, a slight contoured shape and a wide and sturdy nipple that breastfed babies can transition to easily.

A guide to the best bottle deserves a very important preface: babies are notoriously finicky about latching onto rubber or silicone nipples and drinking from a bottle. Also, medical professionals often have personal preferences about bottle types and features. You may have to try out different types of bottles/nipple and feature combinations for your little one, but we like AVENT Natural to start for its simplicity, affordability and adaptability.
This guide combines more than 30 hours of research, interviews with daycare providers and parents of especially finicky children, and hands-on testing of some of the top-rated and preferred models to get to our pick. Latching, leaking, ease-of use for parent and baby, cleaning and adaptability were considered.
Who Should Buy This?
Expectant or new parents looking for a reliable bottle that won't leak, that's easy to assemble, and that won't break when dropped. Older babies may like this bottle because the shape makes it easier for them to self feed. If you've been exclusively breastfeeding but are starting to pump because you're going back to work—or just need to get to the gym or out for a date night—your baby may appreciate the wider nipple and clear measurement marks.
What to Look For in a Bottle?
Reiterating what was mentioned before: the number one goal of the baby bottle is to give your little one sustenance with expressed milk or formula. It doesn't matter if you've bought the most expensive or cheapest bottle available, you're going to look to a new brand if your kiddo is struggling to eat.
Bottle manufacturers have made the life of a new parent challenging. Dozens of brands with dozens of different features may have your head spinning. But what you can do before you begin the task of bottle feeding is understanding the different features and deciding if they warrant a trial for your child.
Build material (plastic vs...not plastic)
Plastic poses a conundrum for parents. Bisphenol A (BPA) was banned for use in baby bottles in 2012. Unfortunately, it's not the only bad plasticizer that can pose health risks.
What do the experts say? "Any small molecule that's in a container has the chemical potential to leach into the contents of the container. So that right there opens up a whole potential area for someone to worry," says Dr. Neal Langerman, chief scientist of the independent consulting company Advanced Chemical Safety. Langerman's statement and research published in Environmental Health Perspectives in 2011 showed that there are plenty of other chemicals that have "estrogenic activity," seemingly leaving parents only glass or metal for bottles.
Alternatively, Dr. Jennifer Shu, co-author of Heading Home With Your Newborn: From Birth to Reality, has another take. "Your decisions have to be made on the best possible information you have at any given time," she said. "Our information right now is that BPA is the main thing to avoid and we're avoiding BPA. Plastic is definitely convenient. One thing I suggest is to not heat plastic, just as a precaution."
The downsides for using glass or metal are significant: they're both heavier and harder to handle, you cannot see through metal containers for measurement and glass is very fragile, which is extra concerning as the baby gets older and wants to start holding the bottle for themselves or flailing their arms at any given moment.
Our choice, the Philips AVENT Natural, is BPA-free plastic, but is also available in a glass variant.
Venting
Modern bottles are getting more complicated every year. Many brands offer venting systems to reduce gas. Every version functions differently, but most try to accomplish the same goal: keeping air out of the baby's mouth to lessen gas and colic issues.
Multiple pediatricians and a lactation consultant told us that reducing gas and potential spit-ups is often more about how you position your baby and the bottle. "If the nipple is completely full of milk, with no air, then that's all you really need to do." said Dr. Shu. Holding your baby upright for five to 15 minutes after feeding will also reduce gas, said Dr. Melina Harmelin of Tribeca Pediatrics.
Modern bottles are getting more complicated every year.
Some venting systems like the one from Tommee Tippee or our pick, the Philips AVENT Natural, build the venting system into the nipple, which doesn't add more parts. Other systems, like those from Playtex or Dr. Brown's add a considerable number of parts and even require special brushes for cleaning.
Save yourselves headaches cleaning and assembling by sticking with a simpler venting system build into the nipple.
Bottle construction
Did Confucius say anything about making a bottle at 3 a.m.? If so, it would be along the lines of "a foggy brain can be cleared with simple bottles." You'll curse the venting systems, insulators, bottle liners, complicated nipple/ring attachments and more when you're sleep deprived and trying to make a bottle overnight. Simpler is always better.
Bottle shape
Contoured bottle shapes become very beneficial when your little one gets into the five- or six-month age and wants to hold onto their own bottle. The wide shape of the contoured bottle is friendlier for small hands compared to traditional straight bottles.
The contoured shape does have downsides. It can be harder for mom and dad to hold compared to the narrower bottles; sometimes you have to really tilt the bottle to get all of the milk out with some of the wider contours like those from Tommee Tippee.
Bottle size
Bottles come in a variety of sizes to grow as your little one grows. And most companies are quick to sell a "starter set" that give you three different size bottles with different nipple flows, cleaning brushes, sanitizers and everything in between. Ultimately it comes down to the parents' preference. Intermediate size bottles include markings from 2 to 9 ounces, which could be used for a year or more for some babies.
Bottles are also available in much smaller sizes like the 2 to 4 ounce range, which are easier to handle as you juggle the more delicate baby, but also have shorter lifespans as they'll typically be washed more frequently.
Nipple build, size and flow
Is a nipple always a nipple? Not if you spend a minute researching "nipple confusion." Dr. Shu says that babies will ultimately take any type of nipple-bottles combination, but manufacturers give new parents a large selection of different option.
Nipple size generally refers to wide nipples versus standard nipples. The wide nipples attempt to mimic the shape of the human breast. And in our testing and research across multiple product lines, that seems to be true. Still, don't discount the standard nipples. These protrude farther into the baby's mouth and do a better job preventing messes and keeping air away from the nipple, which will help with gas issues.
Many bottle manufacturers offer a large range of nipple sizes referring to flow, or the amount of milk released through the nipple. All babies are different in this regard – a size 2 may be too much for some infants while causing a slow, 40-minute feeding session for others. Overall, having options is best, so you can start with the slower flow and upgrade as necessary.
Adaptability and availability
A bottle's ability to adapt to different gadgets and scenarios can be more desirable than you think – depending on your personal situation. Bottles can snap directly into specific pumping systems (for example, Dr. Brown bottles fit Medela pumping systems), fit into a variety of bottle warmers, include a variety of interchangeable nipples and more will help your multi-tasking ability considerably.
A bottle's availability in your area's brick & mortar stores can also be considered. Out and about and forget a part to your bottle? Having a big box store or pharmacy that carries your specific brand of bottles can save time and headaches when dealing with hungry babies.
How We Picked
Because of the nature of latching, the most important factors we considered are the parent tangibles. Is it easy to put together? Are there clear markings? What about spills? Is it adaptable to other nipples sizes and accessories? Can it clean easily? What nipple shape is best for most?
We considered these questions against the top-rated baby bottles available by testing ourselves with a 4-6 month old, talking to parents that have used the bottles and interviewing childcare professionals that use a wide variety of bottles. We combined this information with the research from a previous version of the guide to reach our new pick.
Our Pick
The Philips AVENT Natural is the simplest bottle to assemble, won't break and is quick to be held on its own by a little one.
After weeks of research and testing, we found the Philips AVENT Natural is the most parent-friendly and baby-approved bottle available to the mass market. The simple design and construct, which made it easy to fill and easy to clean, was a big hit from the parent perspective. Breastfed babies easily adapted to the wide nipple and were quick to grab onto the contoured shape.
Compared to The NightLight's previous pick, the Tommee Tippee Closer to Nature, the Philips AVENT Natural was slightly narrower, which allowed it handled better by parent and had a sturdier nipple that kept the milk in the baby's mouth.
The measurement markings were very clear and included U.S. ounces, U.K. ounces and millimeters.
The simple design of the Philips AVENT Natural was one of the biggest selling points and an improvement from its predecessor, the AVENT Classic. It has four parts: the bottle, the durable nipple ring, the nipple and the lid and was difficult to mess up, even under sleep-deprived circumstances. An anti-colic system built into the nipple helps gassy babies without adding extra parts or contraptions to clean.
At less than $10 per bottle (depending on size and quantity ordered) you can't go wrong starting with this bottle and changing brands if your baby disagrees with latching and feeding.
Of course, the Philips AVENT Natural isn't perfect. It is, after all, made of plastic. If chemical concerns still linger, Philips produces an AVENT Natural Glass bottle that includes the same-sized nipples as its plastic brethren and optional sleeves for the fumbling baby hands.
Who Else Likes it?
Baby Gear Lab has not evaluated the Philips AVENT Natural, but Baby Center calls the bottle a "double win" making feeding easier for mom and baby.
On Amazon, the Philips AVENT Natural starter set has a very high 4.8 rating out of 5 stars (over 386 reviews). And the five-star reviews account for 84 percent of the total ratings. This is the highest among any of the available bottle starter sets on Amazon.
The Step Up
If you'd prefer a more boob-like bottle, the Comotomo Natural bottle has a squishy silicone body and super wide nipple that make it more similar to the real thing. Squeezing the bottle also replicates the letdown affect breastfed babies are accustomed to.
While we love the Philips AVENT Natural for its simple, useful design and affordability, we think some breastfed babies may prefer the Comotomo Natural bottle, available for a street price of $11. Its squishy silicone body and super wide nipple make it a bit more boob-like and easier for little hands to grasp.
The Comotomo only has four parts (no venting), which makes it easy to clean and assemble. It comes in 150 and 250 millimeter sizes. The Comotomo gets 4.6 out of five on Amazon (averaged from 915 reviews) and reviewers overwhelmingly recommend it for finicky breastfed babies. Baby Gear Lab also chose this as their "editors choice" because of its breast-like qualities.
We did find that lint and stray pet hair tended to stick to the silicone exterior, and in our testing this bottle was more prone to leaking. One Amazon reviewer also complained about a strange plasticky odor emanating from the bottle, even after multiple washes.
Ultimately, we think most babies will be happy with the much cheaper Philips AVENT Natural. But if you go with the Comotomo Natural bottle , we don't think you'll be disappointed.
Also Great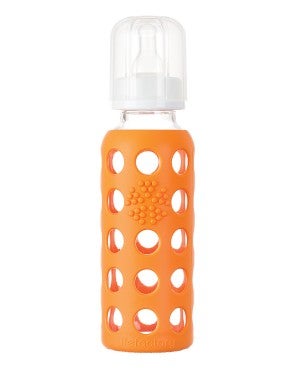 A glass bottle like the Lifefactory 4 oz Bottle is the best plastic-alternative bottle we found. The silicone sleeve helps reduce the risk of shattering and is easy to see through for measuring.
If you're just not comfortable with the potential for chemicals leaching from a plastic bottle, we recommend the glass Lifefactory 4 oz Bottle with sleeve, which you can pick up for between $15 and $20 depending on size. The Lifefactory was our favorite of the glass and metal bottles we tested.
The Lifefactory's silicone sleeve mitigates some of the danger of glass shattering, but it's still easy to see the measurement marks along the side (and to see how much milk or formula is inside). It gets a 4.3 out of five on Amazon, of 375 reviews, and was another top pick in the Baby Gear Lab review.
This bottle is expensive, and if you want to clean the silicone sleeve it can be a bit tricky slipping it back onto the bottle. However, we think it's easy to use overall and appreciate that it doesn't come with complicated venting (like the other two glass bottles we tested). If you want an alternative to plastic that you can still see through, we think the Lifefactory is easiest to use.
The Competition
We tested these bottles, but for various reasons did not choose them.
Pura Kiki Stainless Infant Bottle — Although this was Baby Gear Lab's top choice, we didn't like that you can't see the contents of the bottle. This was the only bottle my babysitter sent back with precious breastmilk still in it (because she didn't realize it wasn't empty). A few of our testers also found the lid difficult to screw on. This bottle seems like it would make a better choice for a toddler with the sippy cup attachment.
Born Free Glass Bottle with ActiveFlow Venting — This was the second favorite of the glass bottles we tested. Overall, we found the venting unnecessary and we'd likely lose the extra parts. One tester also found the anti-colic valve cumbersome.
Dr. Brown's Natural Flow Standard Glass Bottle — This had the most complicated venting of the bottles we tried. We didn't like that you need to clean the venting with a mini brush. If you choose not to use the venting, the bottle will leak.
MAM Anti-Colic Bottle — We found this bottle, which you fill from the bottom, prone to leaking. The venting for this bottle has many parts, which testers found tricky to clean properly.
Think Baby Bottle — Although one of our testers liked that this bottle is lightweight, others felt that it was cheaply constructed. Think sent us their "Thinker System," which converts the baby bottle into a sippy cup. My daughter liked the sippy cup, but after she threw it on the ground multiple times I noticed that a plastic piece on the nipple ring broke off.
Playtex VentAire Bottle — This was one of two bottles that only I tried. Like the other bottles with venting, I found the VentAire's many parts a little cumbersome to put together, as did my husband.
Playtex Drop-Ins Premium Nurser — This was the second bottle that only I tried in our test group. Although I'd read positive reviews that the drop-in liners make these bottles easy for daycare (since you don't need to clean the bottle), I found the drop-ins wasteful. At nearly $8 for a box of 100 liners, this system also adds significantly to the cost of this bottle.
Medela Breastmilk Bottle — The shape made it possible to get every last bit of milk out of this bottle and it was prone to leaking.
We also considered these alternatives from manufacturers, but opted not to test them and can't recommend them.
Munchkin Latch BPA-Free Baby Bottle – Many reviews mentioning the collapsing nipple and the venting system place at the bottom of the bottle (and difficult to clean) discouraged any chances of this bottle.
Kleen Kanteen Baby Bottle — This didn't get higher editorial or user reviews than the stainless steel Pura Kiki bottle and was also more expensive than that bottle.
Adiri Natural Nurser — Similar to the Comotomo, this bottle is made of soft silicone and has a wide, boob-like nipple. However, we read multiple reviews about catastrophic leakage.
Evenflo Glass Bottle — We didn't find any editorial recommendations for this bottle and it didn't receive higher user reviews than the bottles we opted test.
The First Year's GumDrop Wide-Neck Bottles — This bottle did not receive higher user reviews than the bottles we tested.
The First Year's Breast Flow Bottle — Multiple Amazon reviewers complained about this bottle leaking. It also did not receive higher editorial or user reviews than the bottles we tested.
Philips AVENT BPA Free Classic Polypropylene Bottle — Many Amazon complaints about these bottles leaking. The refreshed AVENT Natural is our pick.
Nuby Non-Drip Bottles — Parents.com said the nipple on this bottle is prone to collapsing during feeding. Multiple Amazon reviewers also complained about leaking.'
Getting Your Baby to Take a Bottle
As a new parent, it can sometimes feel like you need a baby whisperer to get your little one to latch to a bottle. Your best chance of success may come down to introducing one early.
"I recommend not waiting too long before you start," said Dr. Jennifer Shu. "If you're dedicated to breast feeding—which is great—your tendency may be to not also introduce a bottle. What I suggest is to have moms pump some breast milk and give it to their baby in a bottle maybe once a week or more if they want to—once a night, if they want their partner to help out. Try not to get the baby so used to just the breast that they refuse to take anything else."
And what about potential nipple confusion? "I think it's overrated. I almost never see it," said Dr. Shu. "I see far more babies that can go from breast to bottle to pacifier than kids who get really confused." She stressed, however, that establishing breastfeeding exclusively within the first week or two is important, but after that it's fine to introduce a bottle.
Care, Use, Maintenance and Repair
Unlike in our grandparents' day, you don't need to sterilize bottles after each use. Unless you're using water that might be contaminated with harmful bacteria, you can simply wash them with hot, soapy water either by hand or in the dishwasher, according to the American Academy of Pediatrics. Of course, always wash your hands before handling your baby's bottle.
Bottles and nipples should be washed thoroughly after each use and allowed to air dry completely. This reduces the chance of bacteria growing in leftover milk or even water.
To reduce the chance of plastic bottles leaching chemicals, Dr. Neal Langerman recommends disposing of bottles that are scratched. And as with all plastic storage containers, it's best not to microwave plastic baby bottles or heat them unnecessarily. "I don't put them in the dishwasher," said Dr. Jennifer Shu, "I only sterilize them the first time."
Wrapping it Up
For its simplicity, modest price and most parent-friendly performance, the Philips AVENT Natural bottle is the best option for starting out your little one on a bottle.