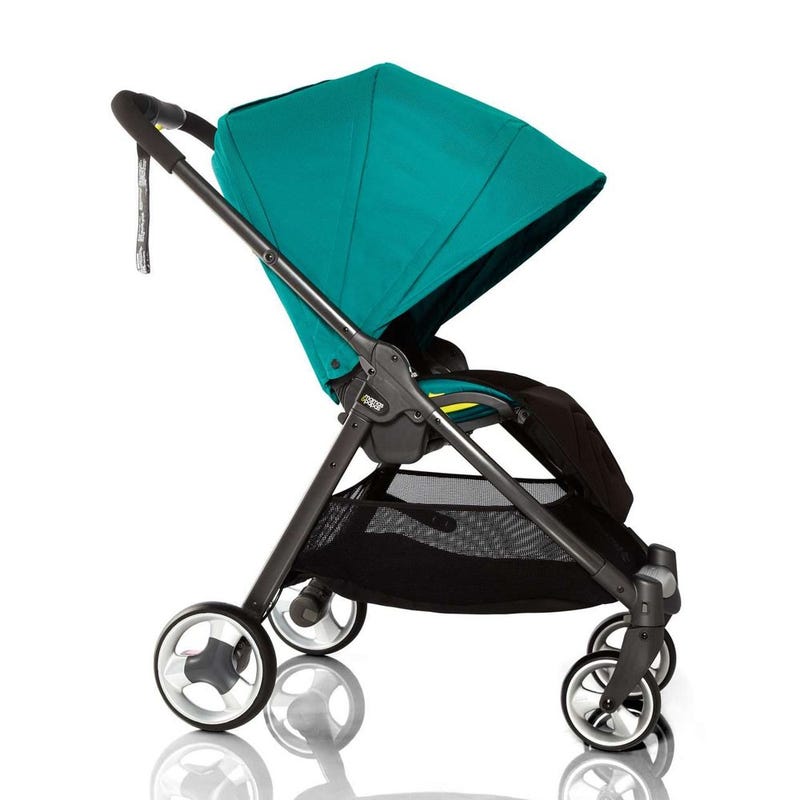 The right stroller can make going out with your baby a breeze. Since the first edition of our stroller guide was published, the stroller landscape has changed, and changed again; we've fully updated our guide. Out of over 30 models, we agree that the Mamas and Papas Armadillo Flip is the best stroller around, with a lightweight frame, an easy folding mechanism, and a fully reclining seat.
Our journey towards stroller nirvana started with over 30 strollers. However, after our research and parent interviews, a list of must-have features were drawn up (more on that in a second), and strollers that didn't have them were eliminated. This left us with only 14 models, which were then further cut down to the five that we thought were the best candidates. These were brought in for in-house testing with our crew of parents. Over the course of 36 hours of research and testing, we found that features like weight, ease of folding, and maneuverability were the most important to parents. Our selection achieves high marks all around.
Our candidates came from a variety of manufacturers, and ranged in price from as low as $100 up to over $1000. We focused on travel-system-compatible, single-seat-only, non-jogging strollers, since we have specific suggestions for strollers in these specialized categories. (You can check them out: Best Jogging Stroller, Best Double Stroller, and Best Umbrella Stroller.)
Who Should Buy This?
Parents and caregivers who want to walk around with their baby have two main options for gear: a baby carrier or a stroller. For most parents, owning at least one stroller is a must-have. Strollers enable you and your baby to walk around together, without the impediment of carrying an infant seat for restaurant or other stops. (We also love carriers, but they are a more involved and physical solution.) With a stroller, you'll be able to walk down the sidewalk or around the park while carrying a lot of extra gear.
What Makes A Good Stroller
Not unlike picking out the right car, a good stroller should have tires and a level of suspension that match your lifestyle. If you stick to sidewalks and shopping malls, smaller wheels will do just fine. If you're at the park and on trails frequently, larger tires and a better suspension are a necessity. Generally, the smoother the ride, the happier the baby. (Not to mention your back.)
Moving up from the wheels, you'll want to have a good amount of storage in your basket—optimally, pockets on the sides or back of the seat, as well. This gives you flexibility to have things close at hand, yet stowed away.
Next is the seat. You want a supportive seat that can be adjusted to be either upright or reclined, depending on what your baby is doing at any given moment. A lot of strollers also have seats that can be removed to face the parent, giving you a chance to bond and check-in on your child. A must-have feature in a full-size stroller is the ability to adapt to fit a car seat.

Most full-size or standard strollers are compatible with an infant car seat, whether it's with an adapter or it clicks right on top of the seat. We've created a handy Car Seat and Stroller Compatibility Guide so that you can more easily find out if two products work together. This combination, also called a travel system is key, because many strollers cannot accommodate infants on their own. This can be because the seat is not flat enough, a lack of a reclined position, or not having enough support for smaller babies. Our pick fits infants from day one, thanks to a fully-reclining seat, which offers excellent support for an infant as well as a growing toddler. Other good features to look for are a large canopy with sun protection, an easy-to-use harness and an adjustable handlebar that fits everyone who is going to push your stroller on a regular basis.
Lastly, the folding mechanism is extremely important. Not all folds are created equal, and what one person finds easy, you might struggle with. Testing this out by practicing folding and putting the stroller in and out of the car can really help you determine the best stroller for you. (We've done a lot of this work for you, of course, but practice makes perfect.)
Now getting all of the above does cost money, but you can get a perfectly adequate—and even pleasing-to-use—stroller for less than a couple of bills. A good stroller can go for as little as $150-$250, but you will get improved features and an overall better product if you spend more. Still, there are diminishing returns as you spend a lot more. Our research found that a good price to aim for is the $300 to $500 range. These strollers tend to offer the most value in terms of features and offer more durable materials as compared to the less expensive set. When you exceed that price range, you will certainly get nice upgrades in the fabric, materials and—to a certain extent—the design, but you won't necessarily gain anything that that is critical to performance. After around $500 or so, you're in the luxury market.
How We Tested
We assembled three sets of parents and their babies and asked them to use our top five candidates in the real world. Folding, strolling, folding, strolling—and then folding and strolling. They adjusted the harnesses, reclined the seats, used them with car seats and drove them all over town to determine which ones were the best and easiest to use.
Our Pick
After consulting with our testers, as well as our own market research, we're confident to say that the Mamas and Papas Armadillo Flip is the best stroller on the market, with a lightweight design and a simple and compact fold. (With one exception for taller-than-average parents.)
While ride and maneuverability are important, the ease of folding and weight of the stroller are what really counts. It doesn't matter how easy your stroller pushes if you can't get it out of your trunk. Our pick weighs less than 20 pounds and has a convenient handle for carrying. Another bonus: the carrying handle and all of the other features are highlighted by yellow trim—you'll know where the important bits are. We found that testers were able to walk up to the stroller and know what to do with little coaching. And if your car has a small trunk, don't fear: the Flip fits into most small trunks, including (as the manufacturer boasts) the Fiat 500.
There was a certain group of individuals who had a common gripe about our pick: the height of the handlebar. The Flip has a fixed-height handlebar, making the product feel exceptionally sturdy, but also somewhat uncomfortable for parents over six feet. To remedy this, there is an upscale model of our pick, aptly named the Mamas and Papas Armadillo Flip XT. The XT adds larger wheels, a ventilated canopy and a height adjustable leather-look handlebar. It carries a $600 price tag, and weighs about 3 pounds more, while retaining the same features that make us love the baseline Flip. Yup—an extra hundred dollars is a twenty percent price increase for a heavier stroller.
Let's revisit the compact fold. The Mamas and Papas Armadillo Flip XT (and by proxy our pick) are incredibly compact when folded. Many premium strollers fold in two pieces and take up the better part of a trunk or closet. This isn't the case here. On top of that, the stroller folds inwards, protecting the cushioned neoprene seat. What also makes these two strollers so good at their job is that they are easy to carry. The Mamas and Papas Armadillo Flip XT and the Mamas and Papas Armadillo Flip have a dedicated carrying handle which is highlighted with a yellow trim. Plus, it's already compact, so it's easy to get your arms around to put in the trunk or to shove into the closet.
Who Else Likes It?

On Amazon.com, a happy user left the following review: "Folds super compact and breaks down in two seconds. Unfolds with just as much ease. The materials used are excellent, soft and comfortable yet very durable. The canopy is quite large. For the style stroller it is the best value compared to uppababy and bugaboo. The seat is large enough for my four year old which makes it even more versatile."
In a recent Project Nursery review, Beth wrote, "First things first, this sun canopy is crazy amazing! I may be biased because I had two babies who absolutely hated having the sun in their eyes.The compact fold takes up minimal space in your home or car, and something I love but never thought about until I actually had a stroller."
The Step Up
For those who want upgraded wheels, fabrics and a bassinet that comes as a standard option, the Peg Perego Book Pop-Up is a logical upgrade at $800. The Book Pop-Up is the flagship model of the Book Line, with large rubber-tread wheels, plush fabrics, and a stand-alone bassinet that can be removed so that the stroller can be used with its fully-reclining and reversible seat. All of this weighs a laudably light 23.7 pounds. The Pop-Up gives parents everything that our pick did, with just a bit more style and comfort. We liked the heavily padded handlebar and that the stroller folds inwards like a book. This locking-fold was very compact, just not quite as small or lightweight (or relatively budget-friendly) as our pick. One knock on the Pop-Up? A lack of compatible car seat options. The stroller fits the Peg Perego Primo Viaggio 4-35 right out of the box, and fits any Maxi-Cosi, Cybex or Nuna seat with an adapter. This leaves out a large number of parents with Britax, Chicco, and Graco infant car seats.
When buying a car seat and stroller, there are certainly many options. It's generally best to choose a stroller first, given that there are many of them, and then find a compatible infant car seat. We've compiled a car seat compatibility guide to help make this easier, and of course, reading our own infant car seat guide helps in choosing the best one for you.
The Step Down
If a reversible seat isn't on your list of must-haves the Valco Snap 4 is an excellent basic stroller that gives frugal parents a fantastic alternative. The Snap4 utilizes a lightweight aluminum chassis and foam-core wheels that roll well on smooth surfaces and light terrain. The base stroller runs $250, but can be further customized with color packs that retail for $45. It also shares a common feature amongst our favorites: an inward fold. The Snap4 folds with a two-button sequence of events, collapsing on top of itself. A handle and shoulder strap are attached to the underside of the seat for easy transporting between cars or activities. While you won't get the reversible seat that comes on our other choices, you will save some dough—and have one of the lightest travel-system compatible strollers on the block.
The Competition
We considered these numerous alternatives from manufacturers, but can't recommend them.
We want to point out that there are many other strollers out there and that our list consisted of single-seat strollers that were not considered joggers or umbrella strollers. All of our candidates fit into the standard or full-size stroller category, meaning that they fit a car seat and have a single stroller seat. We didn't included any convertible (single to double) strollers, or joggers, because we have guides for those already.
Care, Use, Maintenance, and Repair
To keep your stroller running like new, follow these simple instructions:
Clean the frame of any debris with a damp cloth and soapy water (nothing abrasive)
If you're dealing with a squeaky set of wheels, many companies recommend using a silicone based lubricant instead of oil, as the oil can attract more dust and small rock particles
The seat fabric can be machine washed in cold water, but avoid putting the harness or hood in with it. These can be sponge cleaned by hand with a mild detergent.
Try to do all of the above quarterly, or sooner if it's needed. It's also very important to use your stroller properly. This involves following the guidelines set by the manufacturer, like minimum and maximum child size. For example, the Mamas and Papas Armadillo Flip can fit a newborn baby, up to 50 pounds.
For some more tips on safety we interviewed Dr. Mark Zonfrillo, a pediatric emergency physician and injury researcher at Hasbro Children's Hospital. He emphasized the stroller's ability to fit younger babies, saying "For these younger babies, the stroller must be able to recline, and must specifically be approved for your baby's age. Similarly, parents should learn how to properly position their body and adapt to any recommendations made by the stroller company to avoid injury."
Warranties do cover manufacturer defects and performance-related issues, but they won't cover misuse, or problems that are the result of poor upkeep. Mamas and Papas gives customers a two-year warranty and offers friendly UK-based service for many inquires, so expect a British accent upon calling them if you ever run into a problem.
What To Look Forward To
Two new strollers strike our fancy: First up, from OXO, maker of kitchen gadgets and our favorite high chair, comes the Cubby Stroller. This is the brand's first foray into wheeled goods, and it takes storage flexibility very seriously. It offers pockets along the rear of the stroller, in the basket, and in the canopy. The only downside to added storage? Not knowing in which (of many pockets) you left your phone.
Another stroller to keep on your radar is from a new company called GreenTom. Creator and designer Bart Bost set out to create a greener, and simplified product. GreenTom will hit the United States in February 2016, and will be made domestically out of 100 percent recyclable and sustainable products. How do they do that? By using materials like soda bottles and castor bean oil to create a durable plastic frame. How durable? They use the same material to produce engine covers for the 2016 Mercedes A-Class, and for high-performance skis! Soda bottles also make up most of the seat fabric, in fact. But if it will be a good design remains to be seen.
Wrapping It Up
When Mamas and Papas test their strollers for safety and reliability, they do so by replicating pushing a 3-year-old for 143 miles on a rocky road. That's a lot of mid-morning strolls and after dinner walks home. It shows. Out of over 30 models, we found that the Mamas and Papas Armadillo Flip is the best stroller around, with a lightweight frame, simple fold and a fully-reclining seat.

Sources